The Veronica butterly is my contribution to the Elephant Ball, a gala to be held in Gothenburg in September by The Perfect World Foundation, a Scandinavian based independent non-profit organization established in 2010 to raise awareness, funding, and to take action together with animal and nature conservation projects around the world.
I made my mask with the endangerad "Veronica butterly" in mind. No matter how big or small you are, we all matter and make a difference in this world. I made my Veronica with papier maché, acrylics, varnish and a whole lot of joy and love.
If you want to make a bid on Veronica, or any of the other masks donated to the auction just click here.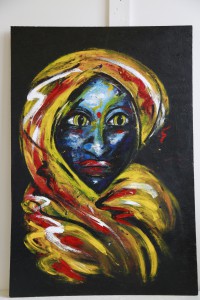 "Always and never again the same" (mått 80 x 120 cm)
skänker jag till Tim Anderssons Minnesfond.
Stiftelsen arbetar med att stimulera och hjälpa ungdomar när det gäller psykisk ohälsa. För att kunna samla in pengar till denna så otroligt viktiga uppgift kommer ett antal konstnärer som ställer ut under 2016 års påskutställning i Kristianstad att skänka varsitt verk. Jag stolt och tacksam över att kunna bidra och donerar mitt verk "Always and never again the same".
Tavlan är en personlig favorit, målad med kärlek och engagemang och jag hoppas att den kan bidra till det viktiga arbetet med att stärka ungdomar och motverka psykisk ohälsa.
During Easter 2016 I will, for the second time around, exhibit my work in Kristianstad. One of the pieces I will bring is "Always and never again the same". This piece I will donate to Tim Anderssons Minnesfond, a memorial fund working to stimulate and help young people when it comes to mental illness. To raise funds for this incredibly important task, a number of the artists exhibiting during the 2016 Easter exhibition in Kristianstad will donate a piece of their work.
I am proud and grateful to be able to contribute and donate my work "Always and never again the same". The painting is a personal favorite, painted with love and commitment and I hope that it can contribute to the important work of strengthening young people and to prevent mental illness.